Description
The RD 36-2 works on the single tube gas pressure principle, however the internal
pressure can be kept low by using a remote reservoir with adjustable bump valve. In connection with optimized seals and guide sleeves the friction of this damper is reduced to a minimum. This guarantees optimal responding behaviour. The floating piston installed in the remote reservoir prevents mixing of oil and gas. This also prevents from cavitation at high effort, which would lead to
a decrease of damping force.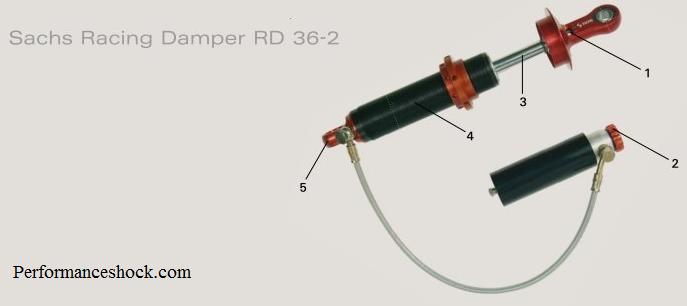 1. The damping forces of rebound and bump are independent adjustable. The rebound damping can be adjusted infinitely via an adjusting wheel on the top of the piston rod. The large adjusting range offers a broad tuning potential for various track conditions.
2. The bump damping forces can be adjusted via clicks by a knob placed at the remote reservoir. The RD 36-2 has a piston diameter of 36 mm (thread on body M42x1.5), which gives the possibility of using at adverse placement
conditions. The damper can be installed in every position.
3. The bending stiffness of the 15 mm-piston rod guarantees high reliability.
4. The lightweight aluminium body is manufactured out of precision tube, which has a very smooth running surface. In combination with a special coating it guarantees a high abrasion resistance at lowest friction.
5. The PTFE-coated bearings which are free of play have got an inner diameter of 15 mm. The possibility to choose different lengths of the hose is resulting in a flexible placement on the car.
The accessory components like top eye and spring seats are available in different dimensions and can be ordered separately. The damping characteristic can be chosen out of various basic options. Special settings are also available.
The damper gets delivered with a setting
instruction and graphs showing the damping
characteristics.
Typical application includes:
Circuit/Mountain/Slalom/Sprint
*Formula vehicles
*Touring cars (partly)
*Formula Student
Have a question regarding this item? Please use our Contact Us form or call (707) 938-5664 for Customer Service.