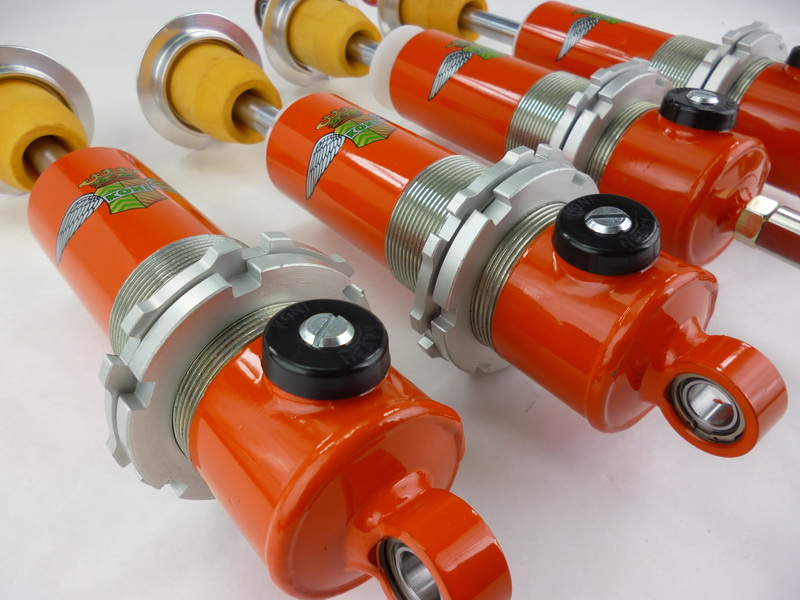 KONI shock rebuild cost starts at approximately $250 each for single adjustable and $350 for dual adjustable pending inspection and evaluation of your KONI shocks. Internal hard parts will be additional cost to service fee if replacement parts are required. If KONI still manufacture shocks for your car we recommend replacement with new KONI shocks Vs. rebuilding.
If you have KONI racing 3012/2812/8211/8212 or historic shocks no longer available new we can rebuild them for you.
We have 2 locations to serve your KONI rebuild needs. For West Coast customers, please contact our Sonoma Raceway Service center at 707.938.5664
Download West Coast Service Request Form Here
For Mid West & East Coast customers, please contact our Ohio Service center at 614.219.1211
Download Ohio Service Request Form Here
Performance Shock, Inc is the premier racing shock absorber sales & service center in North America. We are Certified by Koni to sell, repair, modify, rebuild and re-valve their shocks to factory specifications and requirements using only OEM parts.
All dampers are tested and calibrated with our state of the art Roehrig shock absorber dynos once serviced.
Please use our Contact Us Form or call (707) 938-5664 for Customer Service to discuss you shock rebuild and service requirements.
Shocks can be shipped to our Sonoma Raceway Service Center via UPS, Fedex, DHL or other common carrier. We do not recommend shipping shocks via US Postal service as the US Postal Service packages normally arrive damaged.
Our California Address is:
Performance Shock, Inc
29139 Arnold Drive
Sonoma, CA 95476
Our Ohio Address is:
Performance Shock, Inc Ohio
4683 Northwest Parkway
Hilliard, Ohio 43026
Please include a copy of our Service Request Form (above). Please Note: We are unable to place your job in the service queue until we have a completed service request form.
Remove all springs (unless you want them tested) and mounting hardware before shipping. If you do not have tools to safely remove the springs yourself, ship them assembled. We will dismount and remount them for you. There is a $20.00 per shock charge to remove and reinstall springs that require the use of a spring compressor.
You may also visit our Shop at Sonoma Raceway to drop off your shocks and discuss your suspension requirements. We are open Monday through Friday, 8.00am to 5.00pm. Call in advance for Raceway access during race weekends.
Please note there is a $75 service charge per shock for inspecting and evaluating dampers for service.
Due to the (potentially dangerous) nature of motorsports, aside of Manufacturers offered warranties, there is no warranty, guarantee or liability expressed or implied applicable to any parts supplied or services performed by Performance Shock, Inc (PSi).